As my first official year in the "big girl" world, I can finally stop drooling over anything that suits my kitchen fancy.
Sadly, there is a huge difference between being "able to buy" something and being able to "afford" it.
Between student loans, bills and my car payment…it's difficult to splurge on kitcheny goodies. Thankfully, I know plenty of wonderful peeps who lurve me bundles and are looking to get me some new gadgetry. I highly recommend the following nummly-makers for the chefs in your lives. They're kitchen masters who, like myself, want to drop some serious bills at Williams Sonoma, Uncommongoods, or Crate&Barrel. Anytime I see something I don't have in my kitchen, I want it! These beauties are on my Christmas list:
1. Herb Infuser
For all the yummy flavors melded into one dish. Cooking with herb-infused (or veggie) oil lends to some amazing dishes! Think salads, chicken, beef…pretty much anything you can imagine. Throw in a sexy wok and some wine – you're in business!
2. An espresso maker
One at a much more affordable price. The money-savvy side of me can't bear to spend hundreds of dollars on an espresso maker. I mean, seriously…who can do that? This little guy has pretty positive reviews and comes in under $40. I may just love this contraption.
3. A Dutch Oven
Wonderful for casseroles, pot roast, pasta dishes…well – practically everything! It's a spectacular way to go from stove to oven and melds a cacophony of flavors together. Mmmm!
4. A Mandoline
One of these babies turns into a chef's best friend, especially when trying to get just the right shape for chips or Julienne veggies. Personally, I <3 sweet potato baked fries, but they're hell to make because of the hard potato. Quite a pain the rear, truly. A mandoline makes kitchen life easier, therefore – I love it!
5. Nerdy Serveware (I ate some pi)
Just because! Any nerdy cook will heart you bundles for adding extra smiles to their kitchen. These plates look super cute and would be even better with my homemade chocolate cake on them!
6. The (that's right, the one and only!) Stand Mixer
I bake all the time. At least once a week. This beauty would make kitchen duties that much more fun. I'm sure I could cream butter and sugar for hours if I had one!
7. A kitchen torch.
This may not be for anyone with mini-pyros in the house, but I can't think of many foodiefreaks that don't desperately want one of these gadgets! Think of the Crème Brûlée (Ree's may be my fave), my friends! Just revel in visions of sugary goodness. NOMS!
8. An Immersion Blender
I've wanted to make smooth butternut squash soup, tomato soup and even some yummly gravy, but alas…it's seriously difficult without one of these puppies. I end up with lumpy portions of deliciousness, which just makes me sad. I need beautiful, not just finger-licking good dishes. Hence, my need for this!
9. CookwareThe beau and I still use the same cookware we bought in college. Sure, that wasn't too long ago, but these guys are over 3 years old and really need to be put to rest. The crazy thing? Buying pots and pans can get insanely pricey! We've looked all over for just the right set and usually fall head over heels for upwards of $400 sets. Again…insane! But here we have a pretty great set, dishwasher safe and over safe to 450 degrees. Perfect for browning off fish fillets and steaks.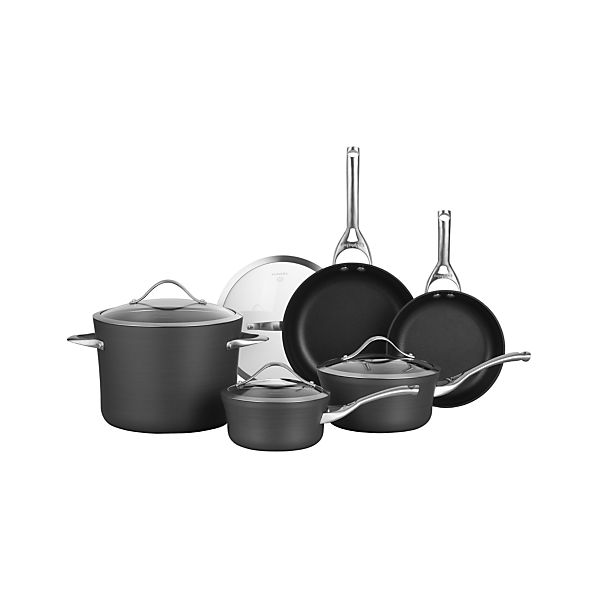 10. Ramekins
My next baking adventure will be soufflé! As I love all things wintry and filled with deserts, these snowflakes are simply gorgeous! Sigh. What I'd give to bake with these.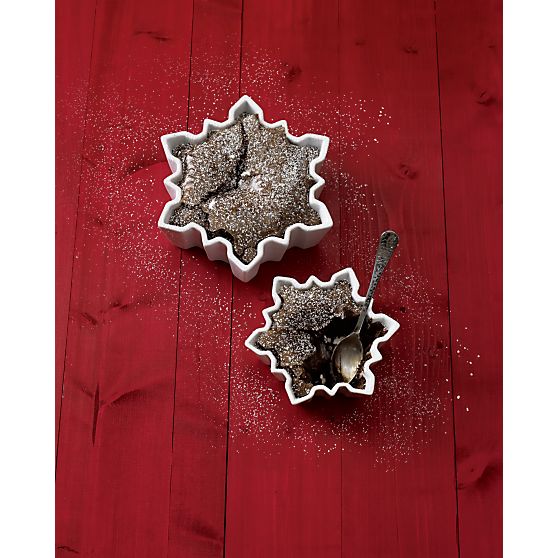 Now, head out and get one of these wondermous tools for your fave chef. They'll love it and you'll love what they make you with your gift. Because if I'm certain about one thing…it's that a foodie creator will love to whip up anything for their fans.
Trust me on this.
Much love,
CerebellumChef